Unemployment Compensation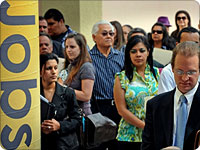 We are Chicago unemployment lawyers who have represented numerous individuals and companies in unemployment compensation hearings before the Illinois Department of Employment Security ("IDES"). With a current Illinois unemployment rate last reported at 10%, unemployment insurance benefits have become a hotly contested issue. These payments can help while an individual seeks to re-enter the workforce. But if you own a business, being found liable on unemployment claims will cause your unemployment insurance rates to rise.
We have experience representing clients at all levels, from purely administrative levels, such as telephonic hearings, and the Board of Review, to the Circuit Courts. We can assist in optimally positioning your claim or defense for success, as we have so often done for our clients in the past.
Contact us if you need legal representation in an unemployment matter. The earlier in the process you obtain legal assistance, the better the possibility for creating a favorable legal record on your behalf.